Buying a foreign property is a big financial commitment, but understanding your currency transfer options early on means you can budget for the purchase more effectively and potentially save a considerable amount of money.
When transferring large sums abroad, securing a more competitive exchange rate can make a substantial difference to how much foreign currency you receive.
As well as sourcing the best available exchange rate it's important to be aware of how market volatility can impact the cost of your international transfer and our expert Account Managers are on hand to help you understand the options available to you to manage this risk and make the most from your currency transfers.
TorFX offers a rate improver guarantee and can match or beat any valid quote from banks or other providers.
As well as providing personal guidance and support, your Account Manager will keep you informed of the latest currency trends with regular market reports. This level of expert insight means you'll know when an exchange rate is moving in your favour and can plan your international property purchase accordingly.
TorFX also provides forward contracts which you may want to consider when investing in overseas real estate. A forward contract allows you to fix an exchange rate up to two years in advance of needing the currency. Being able to fix a rate in this way means that you'll know exactly how much your purchase is going to set you back, no matter how long it takes to see it through from initial offer to completion and regardless of what the exchange rate does.
No matter what your transfer requirement, TorFX can offer you:
A rate improver guarantee
No Transfer Fees
Regular market updates
Expert support and guidance
Dedicated account management
The ability to fix an exchange rate up to two years in advance

If you're going to have mortgage or rental payments to manage, find out more about our Regular Overseas Payments service.
TorFX Guide to Buying Property Abroad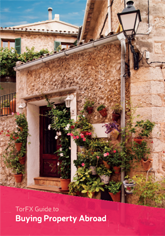 Buying property overseas? Our free guide is full of top tips to help you navigate the foreign property market and provides useful information on subjects from locations to solicitors.
Download Guide
More buying property guides:
Buying Property in Australia
Buying Property in Canada
Buying Property in France
Buying Property in New Zealand
Buying Property in Spain