Many people who live or work abroad find they have to make smaller recurrent foreign currency transfers, perhaps to meet mortgage payments, transfer wages or manage a pension. While you can use your bank to handle them, most levy fees which can really add up over the course of the year. With the TorFX Regular Overseas Payments service you can arrange for recurrent transfers to be made automatically, at a competitive rate of exchange and without you having to pay transfer fees or commission costs.
As most banks charge an average of £30 per transfer, you'll save up to £360 a year in transfer fees alone, not to mention the savings you'll make every month by securing a excellent exchange rate.
TorFX can simplify the transfer process so you won't have to do a thing once your recurring payment is set up and we make it easy for you to amend the transfer details, offering real flexibility.
This stress-free service is available for those making regular transfers of between £500 and £10,000 per month, over a minimum period of 6 months. You can even take out more than one plan at a time, which means it's perfect for clients who need to make multiple regular transfers.
Commission
Transfer Fee
Total Per Year
Monthly
Monthly
TorFX
£0
£0
£0
Bank
£30*
£30*
£720*
SAVING OVER 12 MONTHS = £720*
*Based on a monthly transfer of £1,000.
These figures are purely illustrative.
Once you're registered as a client our regular payment service is quick and easy to set up and we ensure that payments are made automatically on the day you select, eliminating all the hassle and helping you connect with better currency rates.
Client Review
"Excellent service and great rates"
We have been using TorFX for regular transfers every month for the last three years. During this time I have found the staff to be extremely helpful and efficient. Having one contact to deal with means you get personal service. When that person is not available someone else steps in and deals with any queries you may have. The online transfer facility means I can transfer money when it is convenient to me. We cannot recommend TorFX highly enough.
Ronald and Mary Smith
Overseas Payments Brochure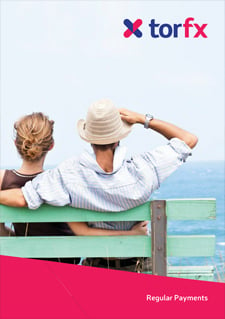 If you'd like more information about how TorFX can help you manage your regular overseas currency transfers, please download our guide.
Download Brochure